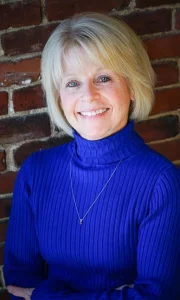 Paralegal
603-856-8441
stacy@nicholson-lawfirm.com
Stacy's diverse background spans several years in various practice areas. She attended Keene State College, and started her career at Devine, Millimet as a Legal Assistant. She continued cultivating her broad experience working for a sole practitioner and various boutique law firms. She worked at the law firm of Devine & Nyquist, under the wing of Attorney Lee Nyquist. While working she earned her Paralegal Certificate. She worked with the now Superior Court Judge, Diane Nicolosi and Attorney Greg Swope at Swope & Nicolosi. She also worked for ten years as a Paralegal for Shaheen & Gordon, PA. Her training includes working as a Program Assistant for the NH Department of Transportation in the Office of Policy and Administration and Federal Compliance. Before joining Nicholson Law, she worked at the law firm of Greenblott & O'Rourke.
A native of New Hampshire, she lives with her husband Dana in Bow. She has a son and daughter-in-law in Barrington. She volunteers with the NH Audubon and BreatheNH. She spends her free time outdoors, walking, hiking, kayaking and manicuring her lawn and gardens.